Borders are political lines that separate geographic areas and countries on Earth. Tripoint borders are often encountered, but there is only one quadripoint, separating the countries of Botswana, Zambia, Zimbabwe and Namibia, although the latter two are about 100m apart from the point of convergence. This point of the African continent is not a tourist attraction nor is there any signed landmark, as it is located in the middle of the river Zambezi. In 2017, the governments of Zambia and Botswana announced an agreement to build a bridge and replace the ferry.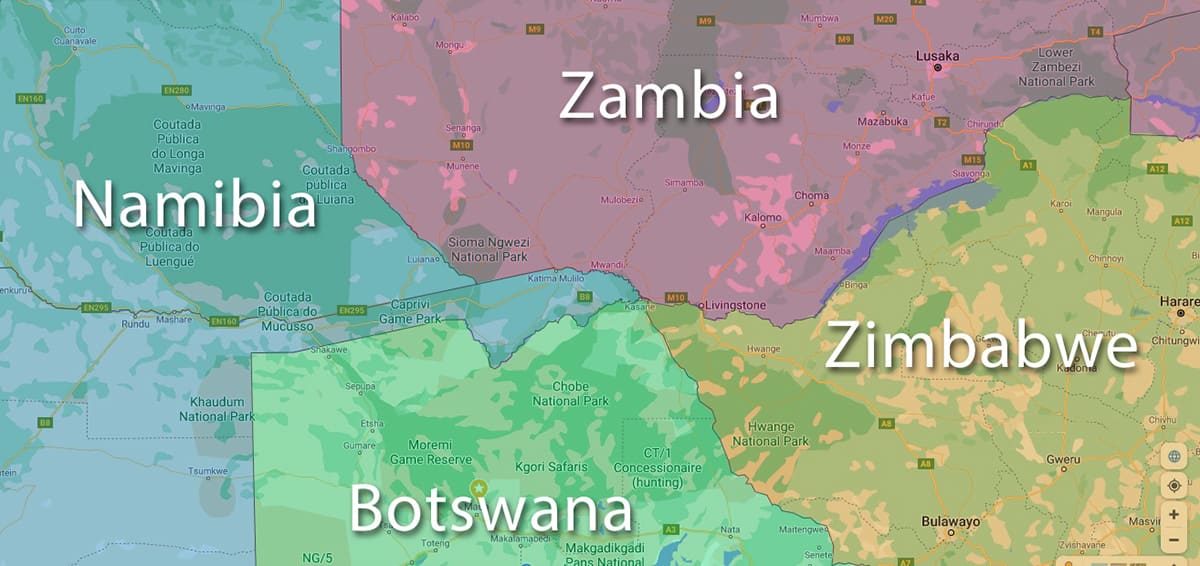 In August 2014, along with my 4 more travel buddies, we continue a road trip of over 3500km in the remoteness of Africa, 5 persons squeezed into an old Toyota RAV 4. On a pontoon ferry that crosses the Zambezi river, we leave behind Zambia to enter Botswana for the 3rd part of our trip. On the other side of the river, the landscape resembles a dystopian fantasy film. Monkeys have taken over the road and dominate the trucks parked for the documentation, forming long queues. The monkeys and the warthogs that stroll around even in residential areas, are a sign that the country is a kingdom of wildlife, which is more numerous than humans.
The border post had minimal traffic. The visa was free and the paperwork simple for African standards, but we had to buy extra insurance coverage for the vehicle, much to our displeasure. There we met Steven, a young German motorcyclist who rode around Africa.
After passing the wheels of the car and our shoes through special pits with disinfectant for the "foot & mouth disease" which mainly affects cattle, we officially entered the country.
With Steven, this authentic overlander we'll have some beers together in Kasane, exchanging travel experiences. We'll meet again towards the end of his trip, back in Athens.
More about the quadripoint border can be found in the detailed article of fellow travel bloggers geografikoi.gr
The rest of the road trip to Botswana:
Botswana
Facebook Comments