---
For travel addicts and photography lovers
Traveling… a precious leisure activity or an intense need to learn and experience new things? In any case, travel is ingrained in our DNA, maybe that's the driving force behind man's colonization of every corner of the earth. The desire to explore new places has a powerful effect on us. Distances are measured differently for each person, but each journey, whether it is only a few steps away from home or to the end of the world, reserves for us new sensations, images, emotions, and lifechanging moments. Let's board on a Trip in Pictures and absorb experiences and emotions of our world, through my images and words.
For passionate travelers
Traveling … is an addictive way out, an endless search for new experiences for the incurable traveler. For those who have the "travel bug" it's the best gift offered to oneself. The purpose and perspective of the trip is different for everyone, for some it's just a required move to a vacation spot, while for others it's an opportunity to explore places, people and maybe their inner self. Personally, at some point I felt the need to explore the world beyond my beautiful home country, beyond the comforts of "civilized" Europe. During my valuable vacation time, I forego Greece's wonderful islands and beaches in favor of discovering alternative beauty in locations that are untamed, sometimes harsh, but always enchanting.
Choosing to leave the comfort zone and roam the insecurity of the unknown, in comfort and safety standards significantly inferior to those found in the Western world. In developing countries and areas with serious social and political issues. Even in places that most people would never want to visit, there is a lot of charm to be found. I live in one of the world's most beautiful countries, yet I have a desire to travel to… the most amazing planet known.
 Trip in Pictures aspires to offer a mind trip in faraway or nearby places, mainly out of Europe, looking for the last traces of authenticity and traditions that have not yet been affected by westernization.
For image collectors
The further we travel, the more surprisingly different are the images we collect. Whether it's in our memory or our digital film, we all capture images to keep memories alive. Most people take photos during their trips to preserve these memories, but sharing the images with others may be a mental trip for them as well. Photography, however, is much more than that. As a form of art, it's a need of expression, a depiction of the artist's own perspective, a story told by freezing a moment in time.
It's interesting how you perceive things through the lens in such a different point of view while traveling! Observing small details and subtle nuances that you might not have noticed otherwise.
Trip in Pictures is a personal effort to present my work in travel photography, which is an integral part of my every trip.
Through these images of places, people, moments that I have experienced, I hope to travel together.
• Method • Cost • Risks • Difficulties…
Method
Traveling, even to the most distant destinations, is easier than you can imagine. Besides that, just arranging it on your own is part of the joy. Reading, searching for tickets, staring at maps and photos, discussions with other travelers and daydreaming your future experiences, is a most enjoyable process. And while there are many who prefer the thoughtless comfort of a travel agency that will arrange everything, others find pleasure in the independence of a journey without a strictly predetermined schedule, with travel buddies personally chosen and most importantly without the touristy approach.
Cost
Many people think that long trips are a privilege of the wealthy few. The reality is that traveling is simply a life choice. If you choose to sacrifice some luxuries, if you are willing to stay in simple rooms, eat where locals do, use public transport and always search for cheap flights without a specific destination, then you can do it too. If you can live the rest of the year with fewer nights out, limit your dining at fancy restaurants, if you are willing to spend less on clothes and unnecessary products and focus on conquering your dream, then do not hesitate. If your map does not end on the outskirts of Europe and if an unknown African country does make you curious, dare it.
Risks
Fear of the unknown is something that we all experience. Being in a foreign environment, among people looking curiously at you, as you do to them, visiting developing countries where poverty sometimes motivates crime, overcoming language and cultural barriers, is not easy. Though, being respectful, modest and using common sense, what I've personally met in the countries I have been to, were warm-hearted, hospitable people. People who haven't lost their authenticity despite the sweat of toil. People that are not absorbed by the alienating rhythms of western lifestyle. People who have nothing in terms of wealth but they are rich in smiles.
Difficulties
The adversities, unexpected situations, the unforeseen factors of a journey… is a reality that can be deterrent for many, but it's also what makes a trip most memorable. If everything was exactly scheduled, if it was all that easy, then it would be less fun. The flight that was lost, the food that made you sick, the heat and humidity of the tropics, the poor sleep in seedy hotels, the uncomfortable transportation, the fear felt, the dust, the dirt, are certainly not compared with business class traveling in Europe. But the experience is not comparable either.
The bookmark for a Trip in Pictures
on your screen: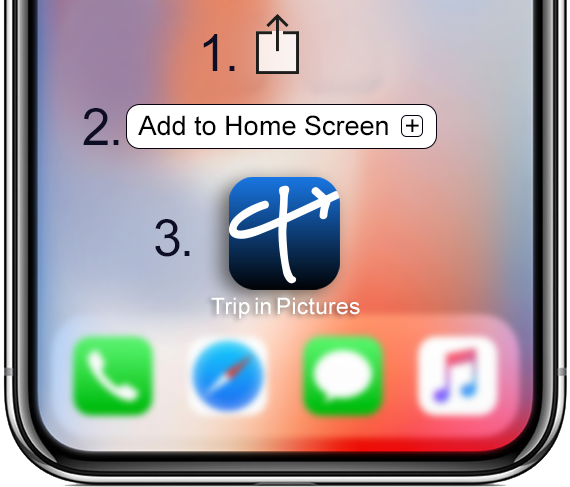 ---
Contact