---
Mauritania
---
🇲🇷
Mauritania is an Islamic republic at the western tip of the Sahara Desert that reaches into the Atlantic Ocean. It borders Senegal to the south, Mali to the south and east, and Algeria and Western Sahara (a disputed area between Morocco and the self-proclaimed Sahrawi Republic) to the north.
Mauritania existed as a tribal kingdom of the Berber Mauri people whom Strabo recorded in the 1st century under this name (Mauri), people living opposite the Iberian Peninsula. The Arabs conquered the region in the eighth century, bringing Islam, Arabic culture, and the Arabic language. In the early 20th century, Mauritania was colonized by France as part of French West Africa. It gained its independence in 1960, but has since experienced coups and periods of military dictatorship. Not surprisingly, most of the country is desert of all kinds, rocky, sandy, flat or with sand dunes, with almost no mountains, with some savannahs and small rainforests on the southern border, along the Senegal River. The subsoil of this place has abundant natural resources, including iron ore, oil and other minerals, but Mauritania is a poor country with very low GDP per capita and serious humanitarian issues. Its economy is based mainly on livestock, fisheries and poor agricultural production. Mauritania is not a human rights advocate, and it was the last country in the world to abolish slavery, just in 1981. Almost 100% of the population is Muslim and in addition to Arabic, French is also widely spoken. Mauritania is considered one of the least visited African countries.
People
Mauritania is a sparsely populated country with a population of four million people in an area of ​​1,000,000 km2, about double that of France. The inhabitants are a mixture of two main ethnic groups with distinct skin tones, the light-skinned Beidane, of Arab-Berber origin, and the dark-skinned Haratin of African descent. There is also a percentage of other West African ethnic groups. Despite economic hardship, harsh environment and strict religion, Mauritanians are extremely friendly and kind people. Poor but honest… These characteristics make the country one of the safest in Africa, despite travel warnings about terrorism, issued by some Western countries.
I didn't meet anyone in the entire country pushing to sell me anything or scam me, not even one person to be rude. On the contrary, the kindness, gentleness and friendly disposition were exemplary.
Places
Mauritania is generally flat, with vast, arid plains and low rocky ridges. About 3/4 of Mauritania is a desert that is expanding due to climate change.
The highest plateau is that of Adrar, reaching an altitude of 500 meters.
Some vegetation zones and rainforest traces stretch along the Senegal River. In the center and north of the country only sandy desert is found.
The famous "Eye of the Sahara" (Richat structure) is an impressive rock formation in the shape of concentric circles, on the Adrar Plateau near Ouadane. It has a diameter of 40 kilometers and is visible from space.
The main cities are the capital Nouakchott with about 1,000,000 inhabitants and Nouadhibou on the northern border of the country. Both cities are by the Atlantic Ocean. Other smaller towns and attractions include Atar, Chinguetti and Ouadane in Adrar Province, Tichit and Oualata in the southeast.

Where Sahara meets the Atlantic ocean.
December  2021
Shortly after entering Mauritania airspace, the pilot of the aircraft announces that we can admire the famous 'Eye of the Sahara' from the left side windows. This giant circular geological formation also known as the Richat Structure has been a topic of fiction in the recent past, with some claiming it fits Plato's description of the lost city of Atlantis and others claiming it was the result of a meteorite impact. In fact it's a geological dome, with layers of sedimentary rocks that have eroded and appear as concentric rings. It has a diameter of 40 kms and although it is very close to the small town of Ouadane that I intend to visit, it's only visible from space or even a flight altitude. Since I'm not planning to travel into space soon, I'll make sure to book a seat in the right window on the return flight, for even better observation and photography of the phenomenon. The rest of the flight to Nouakchott Airport reveals magnificent images of the Sahara.
I have admired the desert many times, from the ground level and from above, but it always exerts an inexplicable attraction to me. Its spell has fascinated the nomad people for centuries, making their home in these hot, dry, inhospitable areas, sown with golden grains of sand, innumerable like the stars of the universe. And there appears a line where two such opposite worlds meet, the gold of the Sahara touches the indigo colours of the ocean, scattered with dots from fishing boats. Then the landing gear touches the ground…

I think it's the first time I see an airport that has only desert around, as if it were the only surviving human structure in a dystopian fantasy film.
With quick maneuvers I get second in queue waiting for the visa, but there will be nobody behind me. The slow pace policeman gets €55 and gives me another full-page colored sticker on the passport. Equally slow is the person that stamps my entry into the country, initially in a large hall where only an old luggage belt reminds that it's an airport. Oh, hope my backpack arrives, because I won't not have a good time in the desert without clothes. As long as my OCD is bothering me, a swarm of flies will take care of me by noising around my face. They are probably impressed by the white, bald head and enjoy the tour, however during the whole trip, the flies will be abundant. I pack the long sleeve in the bag, it seems like an unnecessary weight to me, December in Africa, as you known is warm enough. Fortunately there are two ATMs to get foreign currency via credit card. All right, but did I withdrew enough? Let me make a second transaction, otherwise I will have to hitchhike a camel to finish my trip. The card, however, is blocked, considering the successive transaction in this… otherwise ordinary country, suspicious. Of course the airport does not have wifi or any kind of shop. As I go out, I expect the well-known bunch of African taxi "helpers", but I find just a couple of drivers, one of them with an original taxi that says officielle-securite on the door. I will not see another, anywhere else in the country. All people ariving have someone relative to pick them up. After a hard bargain and a theatrical performance style "I go on foot" I manage the lowest possible price of 500mru (€12). Gasoline is expensive dear, and the city is about 40 kilometers away. However, I make an agreement with the driver to get me find a local SIM card. All this in French. 
Did I mention that I do not speak a word in French? No, I didn't. Did I mention that I travel alone? Solo? No, I didn't mention either.
The taxi driver is smart. He finds me a SIM card on some dirt roads in the city without needing to register and he finds my accommodation by calling the landlady because the location on the map was irrelevant. I successfully unblocked my credit card.
Nouakchott by night.
OK, I paid € 30 for my stay, but this is such a luxury, bro! An entire apartment with two bedrooms, living room with huge flat TV, a 2nd living room, a kitchen… What am I gonna do with so much space, bring bellydancers for party? Ok, not everything is perfect, a baby cockroach was relaxing over my things at some point. I try to get some consult by the owner about where should I go next morning, to take a bus to Atar. We are both trying to google translate but she eventually arranges a taxi to pick me up, cause the bus station is far away. The accommodation was is quite a great choice location wise, there is only one grocery store to get some water, biscuits and mango juice. The grocery stores here are called "boutiques", I thought boutique is another kind of store. I finally get bored of idle time and despite the fatigue I send a message to Baba, a local guy recommended by my friend Marie, who had traveled here a month ago. Baba is eager to meet in a cafe somewhere in central area.
I get out on the boulevard to find a taxi. Of course there is no such a thing, from my African experience so far I know that taxi services are performed by anyone who has a car. What I did not know well is that only the wrecked vehicles in scrap condition, without lights, only these are supposed to be taxis. What did you expect dude? One who has money for Land Cruiser doesn't need to work as taxi driver. There are also a few tuk-tuks out there, but not going to my destination. I'm waving some vehicles to stop, but they are full of 7-8 people. First time in Africa? Certainly not, but regardless my experience, I'm alone in an unknown country and I'm worried about getting into a car full of strong guys, with all my money, passports, photographic equipment. Another info I realised along the way is that you do not ask the ride fee. It is fixed at 10mru (€ 0.25) per passenger for any short distance within the city. If you ask the fee, they demand any amount they want, which of course I did not accept. Another thing that is confusing is that the currency changed in 2018, removing  a zero from the banknotes for practical reasons. But many refer to the prices according to the old currency, that is, they say un mille (1000) and mean 100.
Eventually I find an empty car, not that he couldn't mug me alone. I will soon realise that – as in almost all Islamic countries – violent crime is non-existent. The most central point of the city is considered to be a junction called BMD. From there you can get another taxi for your final destination. Eventually it was not necessary as I made a deal with the driver, for 30mru to take me straight to the Stade Olympique and from there I walk to the cafe Argana, I meet Baba and we smoke a couple of hookahs as tall as myself (OK I'm not quite tall). Of course, alcohol is not available in the cafe, as well as the whole country. The hookah is accompanied by some serious non-alcoholic liquors such as milk shake or soft drinks, under an atmospheric red light of led strips decorating the place.
A few words about Baba (https://www.facebook.com/babe.bekaye).
He is a young guy who has studied at the American embassy and has founded one of the few local travel agencies. Although I did not use his services, he offered to spend time with me on a non-profit basis and to get with me on my last day around the city's points of interest. He still offered to host me, but I chose not to be burdensome and to have some independent schedule. For anyone who needs a local guide in Mauritania, I highly recommend him. In any case, the knowledge and effort of local professionals and not international agencies, should be supported
---
At 6:30 the taxi picks me up and half an hour later I am one of the first passengers at the bus station, securing a front seat ticket. The ticket for Atar costs 400mru (€ 9.5). Although it is advisable to buy two seats in African public transportat, in Mauritania I never felt desperate to do so.
Turban-clad men and women in chaddors arrive and load their stuff on the bus, fortunately some goats were not loaded on the roof like once in Mali when the animals peed over our heads. Soon we depart, every passenger has a seat and the trip is extremely comfortable for African standards, the vehicle is relatively spacious and not so old. It's so comfortable that I can take photos of the sand dunes that cover the edges of the road, the stray camels that roam and the few settlements. I even take a nap. There are almost no settlements on the route, the desert is not quite fertile for human activity. The bus makes one or two stops where women and men run around to find a place for toilet, of course in the desert there is no place to hide. After this process, the passenger next to me kindly offers me a cookie with his dirty hands. I tell him "merci monsieur", instead let me treat you some cookies of mine!
At first it's awkward to see people with covered, unrecognizable faces behind turban garments. They resemble to protesters ready to fire an explosive bomb. But these people are very kind and friendly, unlike the similar dressed people of another Sahel country I visited, Chad. Also, the Mauritanians are very relaxed with photos, well… women not so, definitely an exception are the military persons at various checkpoints, something that the driver warns me to hide my camera about every time we reach one. I will not wear the traditional men robe due to the temperature and limited movement, but the turban that I have from a previous trip in Morocco and another one that I will buy here, is very practical and cool under sun.
Did we forgot something, huh? Ah, have you heard of the COVID pandemic? Probably not because I do not see any face masks used by anyone in the whole country! Now if the turban wrapped around the head and mouth limits the virus spread, I highly doubt it. I am stressed, as in every trip during the pandemic, to have a negative test for my return home. I admit that as the days pass by I also relax my protection measures, after all it seems that the virus does not have a high transmission in this isolated and sparsely populated country.
At some point along the way the driver stops, gets off and offers cookies to a pitiful hiker with a camel. The helpfulness of Mauritanians is impeccable. But the most impressive thing is that the camel guy is a foreigner, a tourist. I manage have a short chat with him. He bought the camel at Ouadane (the price of a camel is around €1000), loaded it with his luggage and set off for Nouakchott. And then will you sell it, I ask him? No, I'll give it back to the community, he answers me. By the way the distance is 600 km. What to say? If someone is happy about walking on the side of the road under intense heat along with a camel, why not? I heard that there are a few more tourists that do it. Generally, however, tourism is low at this time. The outbreak of the Omicron mutation of COVID in Europe, coupled with the closure of the Moroccan border, has canceled many arrivals. After all, there are not many flight connections with other parts of the world. Most tourists are French who visit the "ex-colony" with charter flights directly to Atar. From there they usually have desert tours with 4×4 vehicles in the desert for a few days of relaxation.
The trip of about 400 kms distance is enjoyable despite some comments of other travel bloggers who complain about conditions, because for example the bus windows do not open. I get off some kms before Atar, at the crossroads for Terjit oasis. A friend of Baba is waiting for me to collect me with his car. I have never seen such comfort of arrangements in Africa. These 13 kilometers of comfort cost me 250 mru. At most intersections and settlements, there is an army checkpoint where foreigners are asked to present a so-called "fiche". This is just a passport photocopy that every traveler should have in several copies.
---
Terjit Oasis
An impressive landscape with dramatically eroded plateaus and sand that reaches their peaks, looks more like a Martian than an earthy landscape. As Marie informed me, Jamal has the best camping in Terjit. Of course, there are not many more accommodation options around. I walk on a sandy path, I reach the camp and rest the backpack in the spacious tent.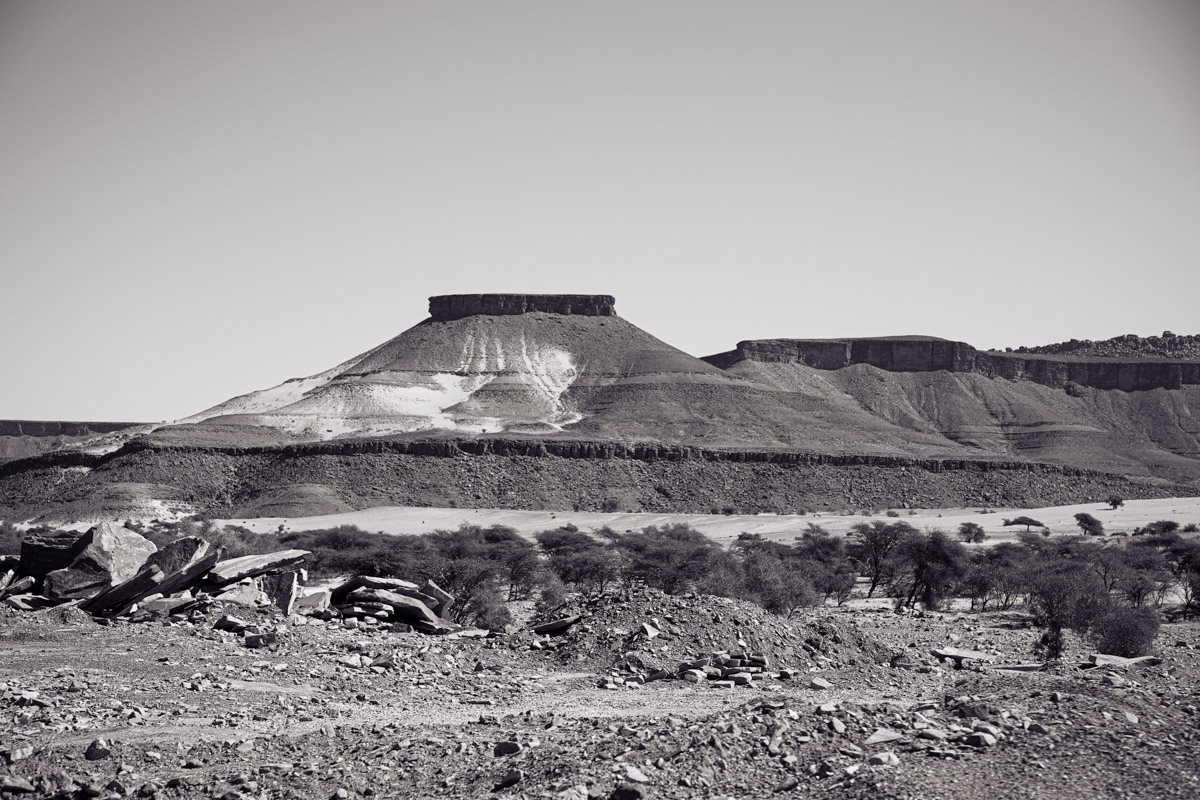 Jamal enjoys his lunch on a divan with a couple of other locals. A space covered with palm tree branches is the dining room. Carpets are laid down for anyone who wants to relax and a group of French people with children have lunch and chat. It surprises me that they can survive without wine! The always smiling young local kid doing every work at the camp, brings my meal. Rice, boiled vegetables, french fries and on side dish dates, a local delicacy in the greater Adrar province. I am not a fun of them. Tea is never to be missed, which is served in glass shots, sweet and with a strange foam. No, the glass is not soapy, the foam comes from the traditional preparation ritual. 
After tea is boiled together with a few mint leaves in the pot, it is successively poured from height into the glasses and then from glass to glass to create the foam. I have nothing better to do at noon than explore the oasis. I can't say that I'm too impressed, it is not an oasis like the ones we have in mind and are located in the middle of a desert. I mean it is, but the surrounding desert is mostly rocky and the oasis inside a gorge. At first glance, it is not much different from some gorges in Crete or other Greek islands where palm trees grow. Of course here we are in Africa, in the Sahara, and that determines the rarity of the place. Beneath the palm trees, water flows into streams and ponds are formed where young children swim and women bathe. Some tents offer relaxation to locals and travelers. I continue on an uphill path to enjoy the view from above and discover the surrounding area. Except from
camel bones there is nothing special, no trace of vegetation in the barren, rocky soil. There is not even an impressive dune, the view is moderate even for a drone flight. On this trip, it seems I will spend a lot of time with myself, this destination is ideal for meditation. 
In the afternoon, the camp residents gather around, about 10 people, the largest number of travelers I will meet in the country. There is a family of two children, Brazilian father – Italian mother who had met as students in Paris and he now works in Nouakchott at the World Food Organization. A Swiss woman who visited her daughter who also works in a local NGO. A cheerful young Venezuelan guy with his Swiss partner traveling by bicycle in the country. Another young French couple who travel mainly on foot! And a middle-aged Swiss woman. The Venezuelan guy does not speak French and has enough fun to hang out. He works 3-4 months a year in casual jobs and the rest of year travels this way. They brought bicycles and surfboards to Nouadhibou and from there started their adventurous journey, carrying the weight of luggage and water and staying in a tent most days, loading everything on buses to other sections. They move the boards with a trailer behind the bicycles, but of course they parked them somewhere before the route to the Sahara.
The place can not keep me for long, still I have to follow the slow pace of Africa and leave late the next day.

Atar
This small but chaotic, hot and bustling city is the capital of the province of Adrar and although it is a common entry point for French tourists, most consider it not interesting and bypass it. Again, I really like these places with randomness, intense human activity that negates any notion of order. Cars and donkey carts coexist in the dusty streets, flea markets selling everything from vegetables to car parts and pickup trucks transporting people and goods to remote desert villages. I board one as well, again claiming a front seat which of course I share with another passenger between me and the driver. The most notable thing is the passenger of the cargo area who is… a camel. After filling up all seats, getting people from Atar neighborhoods, we depart to Chinguetti. Again, the route seems comfortable and fast, despite the dirt road, the vehicle moves at 90kms/h and covers the distance in just 2-3 hours.
---
Chinguetti
Chinguetti is a ksar, that is, a fortified village and a medieval trade center.
Founded in the 13th century as a trade route post in the Sahara and a stations for pilgrimages to Mecca, this small town continues to attract visitors who admire its unique architecture, landscape and ancient libraries. High dunes start at the town limits which is threatened by desert expansion.
The city is divided in two by a sandy, dry stream (wadi). The architecture of the Sahara is characterized by houses made of stone and mud bricks, with roofs of wooden beams and foliage of palm trees. Many of the older houses had handmade doors cut from huge acacias, which have long since disappeared from the surrounding area. Many homes also have interior patios.
Notable buildings in the city are the Mosque with the square minaret decorated with five ostrich eggs at the top and a tall aqueduct tower. Chinguetti's Old Quarter has five major libraries of manuscripts and Quranic books, many dating back to the Middle Ages.
The La Gueila auberge (hostel) is owned by an elderly Frenchwoman, Sylvette, with her local business partner named Sidi, whom I met last day with some tourists in Terjit. The stone-built guest house has wonderful architecture that follows the style of the area, the rooms are spacious with large beds and fluffy duvets. Although the bathrooms are shared, they are extremely clean. In addition to the living room area, in the center of the perimeter there is a lush garden, while a staircase leads to a roof tower where you enjoy panoramic views of the city. Probably the low tourism offered me a very low price in relation to the quality of the accommodation, 1100mru (€ 26) including a rich breakfast with rare flavors of handmade jams such as hibiscus, camel milk, dates etc. Dinner was rich as well, baked chicken and potatoes, reminiscent of a homemade Greek recipe. I could not eat all of that huge portion. Gary, a South African living in Luxembourg with his Colombian wife, has been waiting for me in La Geila for days. Gary is a low-profile, high-quality, well-traveled man, with whom we contacted several days before my arrival through a Facebook travel group. his wife needed a break and so they spent all days of their vacation at the hostel. Though Gary was willing to join me for a two-day camel tour in the desert.
I wander in the city of desert under the hot midday sun. Few people are around at this time. I meet some children to whom I offer a few pens and some ladies who sell small handicrafts of low taste, under a tent or in small shops,. After crossing the dry sandy "wadi" and exploring the side of the old town, I reach one of the manuscript libraries. It is closed, but the owner's phone number is written on a sign so I call him. He speaks Arabic and French but I manage to let him know that I am outside and waiting, so he is not late. I ask him about the price and he tells me confusedly, something about 200 or 300. I let him know that I will pay 100 and nothing more. He wears his special gloves and presents me with some of the manuscripts, decorated with beautiful arabesques. The dry air of the desert and the devotion of generations of caretakers, contributed to the preservation of the fragile parchments, but some of them became termite food. From what the "librarian" tells me in poor English, the caravans followed a six-month journey across the inhospitable Sahara to the pilgrimage of Mecca.
UNESCO has designated Chinguetti as a World Heritage Site and efforts are being made to save the city and its libraries from neglect.
Near the wadi, I decide to make a flight with the drone I carried on this trip, to admire the city from above. Immediately upon take-off it displays a message of strong winds. I ignore it and decide to make a shot above the take-off point without flying away. But a wind stream begins to take it away without being able to resist. I had left the bag and scattered camera equipment around and I am in a dilemma, to leave the bag and chase the drone, or the other way around? I'm in despair, it's the only time I wish I was not alone on this trip. Eventually I return to get the bag hoping to find the drone somewhere before it gets lost in the desert. Miraculously it still flies, at a distance I can approach, but then it gets even further under strong wind and makes a free fall to the sandy ground, without fortunately damage, except some bruices on my fingers while trying to catch it. A nearby donkey was also lucky that it's head didn't; t become a landing pad.
Together with Gary we climb the dunes that take golden and auburn shades under the light of sunset.
The desert in its most impressive shape, stretches vastly in front of me. A sea of sand, inhospitable and lustful at the same time, puts a spell on the nomads, for thousands of years. The wind flirts with the Sahara, whispers at its peaks, caresses its folds. It constantly transforms her, drags her in a perpetual motion. And when the sun hides behind a sand dune, the desert puts on another costume in pastel pink shades…
The idea of leaving for a two day camel tour in the desert fades away. The price set by Sylvette for camels and food reaches the outrageous amount of €100! Per person! Seriously? I ask her to negotiate the price with the camel guy but she refuses to do so. Of course I cancel, Gary has no problem with that nor does he want to go alone. A hospitable shopkeeper, Abdul offers us tea and without trying to sell anything, he says he can find us camels for minimal cost. But I have lost the mood for all this, it seems so touristy and the desert is there, I can sit as long as I want, walk as much as I want, sleep there if I like, without needing camels to take pictures. Note that camels are not intended for riding but only for transporting supplies. When I meet Sylvette I notice that she is keeping mood on me, but that does not concern me.
Gary had told me about a Briton who has converted to Islam and lives there permanently. We meet him for a while on the street. He is around 60+ and drives a Land Cruiser, has blue eyes and a white long beard like any devout Muslim. Demonstrates typical mocking British humor, for all of us tourists who don't get deep in local culture.
It's Monday morning in Chinguetti and the city gets vibrant. Young students go to school as well as teenage schoolgirls in their fancy blue malafa, the traditional Islamic women's clothing. (colorful for older women). Men in white turbans and daraa robe indulge in work, socializing or a floor ball game.
A shopkeeper named Abdul invites me again for tea and suggests we go in the desert to find the nomad settlements. I ask him how much he will charge me and he answers zero. He closes the shop, lowers the shutters and we depart. We cross sand paths on the outskirts of the city, small oases and high dunes, knee deep filling my shoes with sand. After about an hour we finally reach the camps, but there is no soul around. Where are the nomads Abdul? He tells me that at this time there are no nomads in the desert, they are heading to Nouakchott. I confirm that I have no reason to wander in the desert and I'm more interested to spend time with people in town.
Abdul barely accepts a tip for his time. The outskirts of his shop offers me not only a break and some rest from the heat, but also a nice place to observe the daily life of the locals, socializing with them and offer some pens to students and shy schoolgirls.
---
Ouadane
Ouadane is another old fortified desert city. It was founded before the 11th century and was an important trading post in the Sahara and a crossing point for caravans carrying slabs of salt from the Idjil mines. The city gained special prosperity during the inter-Saharan gold trade.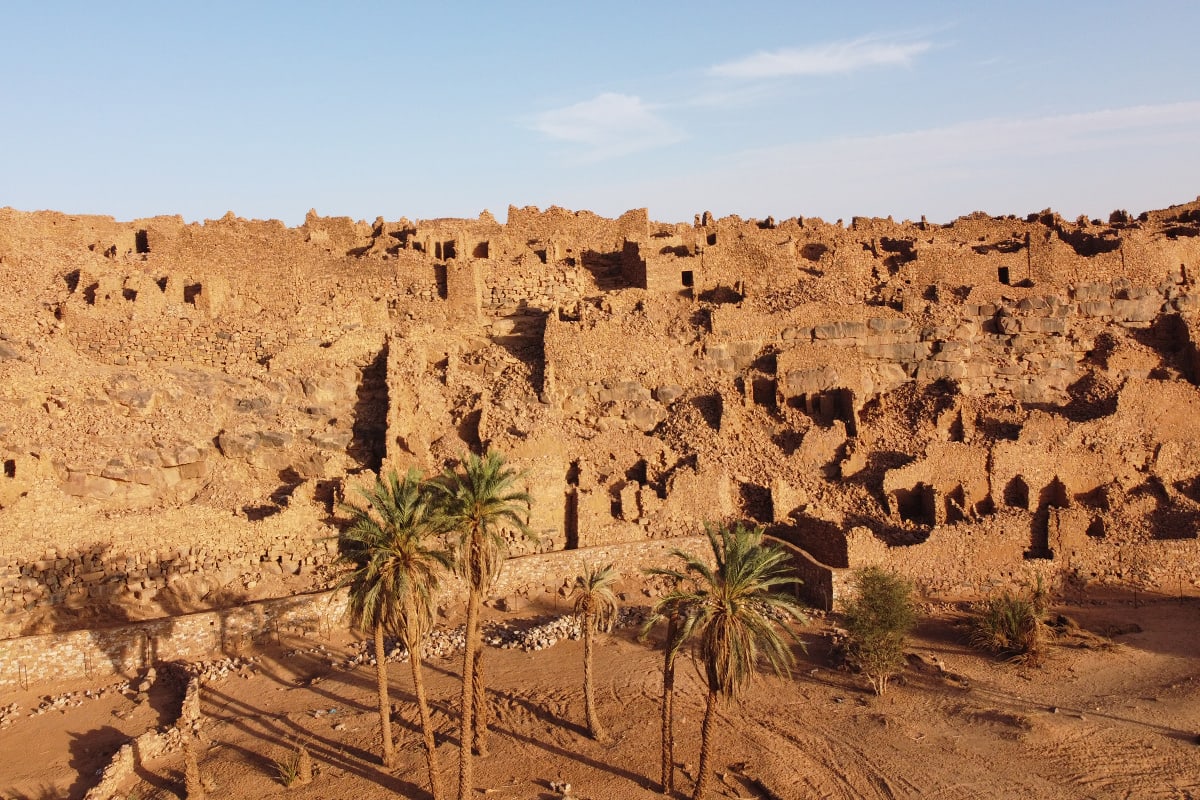 To get from Chinguetti to Ouadane you have to go back to Atar and return with another vehicle that will take the intersection directing to Ouadane about halfway, a waste of time and effort. Instead, I choose to go to the intersection with a taxi and wait for a 4×4 pickup to pass by for my destination. If and when it will pass is not guaranteed, but Sylvette was very helpful and contacted Atar confirming that there is a route and securing a seat. There is no soul at the crossroads, not even the soldier at the checkpoint. Some abandoned buildings could become shelter for the night if I get stacked here, or just lay the sleeping bag under the stars. Staying with my thoughts for three hours is an interesting process.
Only some strange species of sparrow shows curiosity about my presence. What do these unfortunate creatures eat here in the wilderness? I throw them a piece of a cereal bar but they're not quite eagle-eyed, so I feel like grabbing the bar off the ground and eating it myself.
At some point, dust rises on the horizon and two vehicles appear. One goes to Chinguetti and the other picks me up, in the front seat shared again with another passenger. In the back seat there's a beautiful family with two sweet little girls. The father is a civil engineer and they go to their hometown of Ouadane. Despite their poor English, they ask for my phone in order to invite me in the next few days, but i guess they finally forgot about me.
After two hours we arrive in Ouadane, I give a fiche to the military and I lay my bag in the auberge of Zaida, on the outskirts of the city, which provides tents and rooms. I walk around the city that is perched on a rocky fort, in the light of the sunset. Children run happily on the dusty streets and there is excitement with pens and balloon offering. Some children know a few words in English and get an extra pen as a reward.
In the main big tent of the hostel, songs are heard. An Australian tourist of Afghan descent traveling with her private guide is introduced to the henna hand tattoo ritual. At one point there is talk of a controversial tradition in which girls destined for brides underwent a process of forced fattening, a feature of beauty and well-being. The tourist girl offers money for… a demonstration of the process. I am really disgusted with the tourists of this mentality, who think that with money they buy everything without any respect. At some point, the couple of cyclists, the Venezuelan and the Swiss, arrive, offering me more interesting company. They used a bus and plan to leave by bicycle after a few days. Dinner includes couscous and a clay pot like Moroccan tangine with boiled vegetables and camel meat along with the bone. The amount is too much for one person, even four would not make it. Boiled vegetables do not excite me, but the meat is also very tough and full of sand. Who knows where was it laying before reaching the plate?
Early in the morning I set off to explore the old fortified city. Apart from the outer gates of the walls, there is also access from the new side of the city. So I could avoid the 200mru ticket, but a young man pretending to be the guide shows up. My generosity catches me, I give him 300 without issuing a ticket, so that the guy can make a living. The city is quite interesting, from the ruins I enjoy a spectacular view of a valley with palm trees and a river of sand.
The old town, a UNESCO World Heritage Site, remains in relatively good condition after restoration work. The mosque with the square minaret is reminiscent of that of Chinguetti, there are also five rows of vaulted arches. 
I get bored of guides but he becomes useful as a translator, to book a bus seat so I can leave the following day. The driver is the same one who brought me here and at the same time he owns a grocery store. I ask him to secure a front seat but he seems not to confirm.
In Ouadane there are no dunes like in Chinguetti, but the desert is dominant here too, even if it's flatter. 
One day… me and the desert. 
Sahara seduces me, abducts me to her vast expanses, offers me sand to play, whispers to listen to, treasures to explore, hidden not underground but inside my soul. Sahara blinks its giant eye to me.
How long should I stay in the desert? 40 days? Jesus, not! As if I had not eaten enough sand in the desert, I return to the hostel to eat some more of yesterday's camel meat with crushed sand.
.
I wake up at dawn waiting for the pickup to pick me up. After a while it appears. Front seats are occupied, the excuse is that the passenger has a problem with his foot. Smart, I can not dispute that. I could get on the cargo but two guys were already occupying all over the free space. It is the least comfortable transportation but fortunately we are fast and after no more than three hours we arrive, where else? In Atar. From there I take another pickup, almost empty this time to go to Choum and wait for the train. I have a thought of going four hours further, to Zouerate which is the train departure point, but apart from the extra cost and time on the train, I'm afraid of not catching it.
---
Choum
I arrive at a settlement that is in oblivion under the hot sun. There is almost nothing in Choum. No accommodation, no restaurant. There are barely two grocery stores to buy water. The railways cross the edge of the city and after a few meters is supposed to be the country of Sahrawi, an unrecognized state, disputed territory with Morocco. There is no border post but I have read that the area is mined. 
I stroll around without purpose, it's not even noon yet. A local guy under a rare shade informs me that the train passes at 8pm. What am I going to do for so many hours here, there's no internet coverage either. I see an open door and enter. That is, a room with carpets full of dust and mud walls in bright green paint. In the hall there are only women and children and a local with a bag that looks like a traveler. I take off my shoes and relax, they offer me tea. The hours pass slowly but women and children have fun and are not shy with photos. A girl proudly reads some English phrases she has written in a notebook. Some simple things like balloons and pens give children joy here too. Three goats appear from the inner door of the room and run towards the exit. This will be repeated several times in both directions. At some point they bring a tray with food of unknown identity. It's a mix, maybe rice but I'm not sure, it looks like porridge, it probably contains potatoes or something similar, I think it smells like fish. It is possible that fish came by train from the Atlantic, questionably fresh, only about 12 hours out of the fridge on the train and some more on the market with flocks of flies. It will not be the first time I eat disgusting food but my diet does not contain fish today. A cereal bar is enough for me. Instead, women hungrily dip their dirty hands into the tray. 
In the afternoon I go for a walk around to buy a couple of bottles of water, I think they will be enough for the trip, as long as I don't lose or break any of them. I am also looking for a blanket, maybe I avoid using the sleeping bag that will be ruined afterwards. No such items are supposed to be found in Choum, but in a warehouse I found a small variety of blankets, rugs and used clothes. How much monsieur? Combien? 900, says the shopkeeper. What are you saying my friend? I do not want it for my wedding bed. Give me a cheap blanket, a carpet, something for the cold anyway, 350 I give. 400 he says the player. OK I say, I won't bargain the pennies. The blanket is special, with a bed sheet and a pillowcase packed in a nylon case with zipper, which I intend to use as well. Should I really keep it for wedding bed? Just the color is not quite my style. By 7:00 there is some rumour around, the train will pass by 7:30 they say. With the local traveler and another local who shows up and speaks a little English, we head to the rails. The English speaker is from Atar and goes to Nouadhibou for some match of a ball sport that he can not explain to me exactly. They tell me to follow them and stand at the right boarding point. Then he realizes that I intend to travel on the ore and not in the sole passenger car like them. It seems crazy to them that I will travel in the cold, it seems crazy to me that they will travel in the dirty, claustrophobic box. At 8:00 and while it's already dark, I see in the background the light of the train. I dare say, the "beast" is coming, with time precision! I have already put the big backpack in a garbage bag, I grab it and approach the rails ready for boarding. I feel stupid, the diesel engine does not drag any wagons behind it. I return to my resting stone. As stressful as I am I start to worry, what if there is no train today? Well, not quite possible, they say it's every day. A woman passes by after a while and says something to me in Arabic, waving her finger negatively. What? I tell her. Train, I say! She shakes her head and mutters something like, "I told you anyway." I am surrounded by fear. Another diesel engine with 4-5 fuel wagons passes by, but the beast is nowhere. At 9 o'clock another light appears on the horizon. It's not a car, it's a train… but I do not hear any heavy noise. It can not be the beast, it will be a sole diesel engine again. And yet! The beast in all its glory passes in front of me imposingly and stops a few moments later.
I run to choose a wagon, while on the opposite side a pickup car appears. I do not understand if it's police or something else and the driver asks me: Comment ça va? Bien I answer, leave me alone! I climb on the wagon being careful not to fall down, while I pull the big backpack later with a rope that I have tied to it. Welcome to the desert train.
---
THE DESERT TRAIN
(The iron ore train)
It is the longest train in the world, with a length of up to 3 kms. It has been operating since 1963, (with some interruptions due to wars in the region) and transports iron ore from the Zouerat deposits in the Sahara Desert to the port of Nouadhibou in the Atlantic, on a 700km route along the Western Sahara border.
The train has become a travel attraction, with passengers unofficially riding on wagons loaded with mineral. Some consider it as a life experience, a personal achievement or the main reason for visiting the country.
Personally, I consider it a somewhat overrated goal, there are definitely many more unforgettable experiences for an experienced traveler.
But it is definitely a very fun, free and relatively practical way to get to this point where there is no shorter road connection.
The 12-hour distance from the village of Choum (or alternatively 16 hours from Zouerate) to Nouadhibou is mostly under a sky with diamond stars, while at the end of the route the sunrise in the desert is unforgettable. The night is cold on the wagon and you'll need blanket, sleeping bag and more heavy clothing compared to the daytime temperatures in Africa. But the most important element that affects the comfort of the trip is the intense ore dust  that is carried away by wind and covers you with a black layer. A face mask is necessary, the traditional turban becomes useful and for eye protection you need bike or ski glasses.
I lay a sheet on the smudge of the ore, secure the camera backpack in the nylon case of the blanket and all together in another garbage bag. I find a convenient spot on the mineral. I'm having a cereal bar for dinner, with enough water. Just be careful not to break the water bottles and they find me dehydrated next morning. I stupidly did not get a headlight, but I fixed the hand lens on my belt, but it is not very effective. A diesel engine stopped just a bit further throws some light and helps a bit. After no more than 15 minutes, a sharp kick without any warning sound (after all, the machine is half a kilometer away) gives a start. It's not cold yet, probably in the morning when we approach the Atlantic the temperature will drop as they say. Not even half an hour after and things change. The temperature drops sharply. From the 33 degrees Celsius it had during the day, now it is probably close to 10, and it will probably drop to 5-6 in the night. The blanket turns out to be a good buy, but the wind blows through. First I put my feet in the garbage bag with the camera backpack. It is highly effective. Luckily I have two more large garbage bags in a row. Without separating them I fasten them over the blanket, being careful not to get blown by the wind and this way I will travel comfortably. They are rather royal comforts in relation to how a homeless person experiences a night. Only if the face mask did not stretch my ears and I had a softer pillow, the backpack as a headrest is not comfortable…
Feels like an intergalactic journey, maybe the brightest stars I have ever seen! If I reach out I will steal a handful of diamonds from the dome. And the crescent, just like on the flag of the country, smiles at me horizontally. Dreams are intertwined with reality, after all what I live is more intense than the dreams of a short sleep.

The beast roars, the rails squeak creepily, the carriages sway left and right as if sailing in a storm, but I enjoy it, like the latent memory of the lullaby in my cradle.

In order to tame the beast, you must respect its rage, follow the gallop on its back, until the ocean breeze calms the flames burning inside.
The location on the map shows that we are approaching the shore, it's not dawn yet, I look forward to seeing the face of the beast.
In the desert it dawns unhindered, I begin to see the endless serpentine line and the black cloud of iron ore drifting in the reddish sky. For these magic last hours of the trip, all the effort was worth it. The first rays of the sun warm the fatigued body again, saying goodbye to the bed over the black dust. Some herds of camels look at the passing train, as a usual sight.
.
Just outside Nouadhibou the water element makes appears in a form of a shallow lagoon. The train stops outside the city and an old Mercedes is speeding towards me, in a dust cloud. 250mru I tell him firmly, in the absence of other passengers he accepts. He drives to the end of the train where the cramped passenger car is, but he does not find another passenger. I leave the dirty blanket as a gift to the driver.
---
Nouadhibou
Nouadhibou is the second largest city in Mauritania and serves as an important trade and fishing center. It is located on a 65 km long peninsula called Ras Nouadhibou or Cap Blanc, half of which belongs to Morocco. As a result, Nouadhibou is located on the border between Mauritania and Western Sahara (Morocco).
Nouadhibou has many hotels, but booking.com has little involvement and is not cheap. Instead of Aljazira which is popular with travelers but somewhat outdated (€ 45) I go to Valencia (€ 47) without pre-booking trying to negotiate the price. Once again, not only do I not get a better price but they increase it up to €50, correcting the "mistake" of the booking listing. In the situation I am in I do not negotiate much, black dust falls over me on the glossy white tiles. The hotel is luxurious and my stay again includes not a simple room but an entire apartment with two bedrooms, living room, kitchen and the like. I tightly close the dirty clothes in garbage bags and go under the most anticipated feeling of shower water.
Nouadhibou does not have many things to see and do. For me it's a bit urgent is to have something to eat after 36+ hours fasting. An adjoining cafe looks nice, a group of girls drink milk shakes. There is no waiter anywhere, after a while I go into the kitchen to look for him. He shows me photos of the menu on his cell phone. The waiting time is too long even for African pace. After all, here on the coast people have darker skin, they look more original Africans than the average Moorish. I ask for a baguette because omelette is not good without and he brings me a "used" one with leftover food on it. I get furious and send him to buy a fresh one. I walk around the dusty streets of the city under hot sun. I do not discover any point of interest and generally most people don't walk around under the heat. The social contradictions are nevertheless obvious and intense. Some people are looking in a garbage dump and right next door are villas with blooming bougainville. I try to find a taxi to get the port but in vain. There is not much traffic, so I cover most of the distance on foot. One kilometer before I reach my destination I manage to board another wrecked vehicle. The entrance to the port is full of carts carrying boxes and fishing material. In the narrow alleys in front of the piers, there are also small shops that make or repair items for boats and fishing.
In the harbor, known as Port Artisanale, thousands of colorful wooden dugouts form a colorful puzzle pattern, both beautiful and random. The spectacle is amazing, it is worth getting in this part of the world just for that.
This geometric disorder has a constant movement within it. People carrying sacks of fish from the boats, fetching materials in and out, tying ropes, repairing nets.
The fishermen are almost exclusively Senegalese, the Moors avoid this harsh, low class and dangerous profession. I see a multi-storey building of a fishing company. I ask to go up on the roof floor to take pictures from above. The young man in charge interrupts his nap to accompany me. As expected, the view from this height is breathtaking. The company packs large shrimps in styrofoam boxes, freezes and exports them to Europe.
The Mauritanian government has set up the Nouadhibou Free Zone to attract zero-duty fish processing industries, such as tuna canning.
Nouadhibou was also known for its hundreds of shipwrecks and rusty, decommissioned ships off the coast. It was considered the largest ship graveyard in the world. A previous government was bribed by various countries to allow their rusty boats to end here, causing incalculable environmental disaster. Today the Nouadhibou Ship graveyard no longer exists. Most ships have been dismantled and recycled by Chinese companies. Only a few smaller ones can still be found but it is not worth looking for.
In the port there is no place to rest, to drink something. The truth is that with so many seafood I saw, I want to enjoy a good meal. Some restaurants I point out on the map are closed, some in a different location. I find an excellent one with a wide variety of dishes. A Christmas tree and an inflatable Santa Claus decorate the outside hall, the only reference to Christmas I will come across. All around, country flags are hanging on the walls, among them the Greek one. A little mouse looks at me curiously and hides behind a flag.
I decided to give myself a little more luxury this New Year's Eve. So instead of wasting 8 hours crammed into a bus to Nouakchott, I take a domestic Mauritanial airlines flight for €50. After all, it is an experience not only to see the coast of Cap Blanc from above, but also the upper class of the country that travels by air. The passenger seats are not numbered and a very beautiful young girl invites me to sit next to her. She wears a gold watch and a lot of jewelry, her make-up is very sophisticated and she shows excessive narcissism by constantly taking selfies.
---
Nouakchott
The capital city of the country is not a main attraction for visitors. If one is looking for typical attractions or natural beauty, will really be disappointed. In Africa in general, the interest is in the daily life of the inhabitants, and that fascinates me.
This time I choose for my stay a more central accommodation, Triskell hostel which is popular with backpackers. It has tents and rooms, I choose the latter at €16 per day. The locals as I have already realised do not have much activity during the day, my hopes of finding an open seafood restaurant at this time are fading. I circle the whole central part of the city and the heat exhausts me. After many kilometers of walking I end up with a mediocre Asian restaurant. There is beer on the menu and I am excited about the unexpected prospect, but they inform me that it's alcohol free. I have an appointment tonight with Baba at the same cafe for hookahs where I will wish through video call, Happy New Year to my loved ones. There is no celebration in this country, but from a house next to my hotel, music was heard until late, probably an expats party.
The last day is dedicated to the few sights of the capital city, but the first thing I do in the morning is to go to the health center for the COVID test that is necessary for my return home. The test is free and the queue is long by the external gate of the center which at 8am has not opened yet. Social distances are not followed and some women have obvious symptoms of the virus. I write my name on a list, I'm 61st. At 8:30 the first people on the list start getting announced, at some point the door opens for a car to pass and I slip in. The numbering is not observed after all. The test is pharyngeal, the swab just touching the tongue. Now I understand why they have very few cases here.
I walk in the central market of the city, and here the social contrast is huge. Poverty is typical of a third world country while in the background there are some huge buildings, such as the modern new building of the iron mining company.
Later I meet Baba and we go for breakfast, passing by the Grand Mosque and a small souvenir market without interest. Since Baba does not accept money for his time, the least I can do is pay for our food, drinks and hookahs every time we go out.
The boating coast of Nouakchott is different from that of Nouadhibou. There is no pier here, the boats are lined up in endless rows on the sand and others are swinging in huge waves as the crews struggle to get them on shore. The colorful, painted decorations of the wooden frames compose here too a feast of senses. Baba advises me to be discreet when photographing people, Senegalese have a hostile attitude. Personally, I find my way, I am not indiscreet but I do not face any issue on the beach or in the fish market.
The camel market is located on the outskirts of the capital city and we took three taxis in a row to get here. Of course without Baba there was no way I could get this way, except by private taxi.
Nouakchott's camel market is sureal! Hundreds of camels flood the area as far as the eye can see. The camel market in Hargeisa, Somaliland is small compared to this. The desperate moan of a camel distracts me. Around 10 people suppress the animal to lift it and place on the cargo of a pickup truck. Eventually they succeed and the animal calms down. Some animals are stressful and scared when I approach them, but every creature is receptive to love and if you approach patiently, it accepts caresses like a baby. The animals that have a number on them are destined for slaughter, in this market the souls are constantly recycled. Of course, it's just as sad in sheep and goat slaughterhouses in the western world, we just do not see them.
Afternoon finds me looking forward to the result of the molecular test which fortunately came out negative and I will return to my homeland as planned.
Afternoon finds me looking forward to the result of the PCR test which fortunately came out negative so I will return to my homeland as planned.
Mauritania is an impressive country with extremely friendly people that left me with beautiful memories. The deserted isolation of the place makes it ideal for solitary travel and inner meditation. The time I had available seemed to me enough, if I had more I do not think I would find many more points of interest. Maybe just some small villages in the south, on the river Senegal, which I can explore on a future trip to that country.
---
©Alexandros Tsoutis