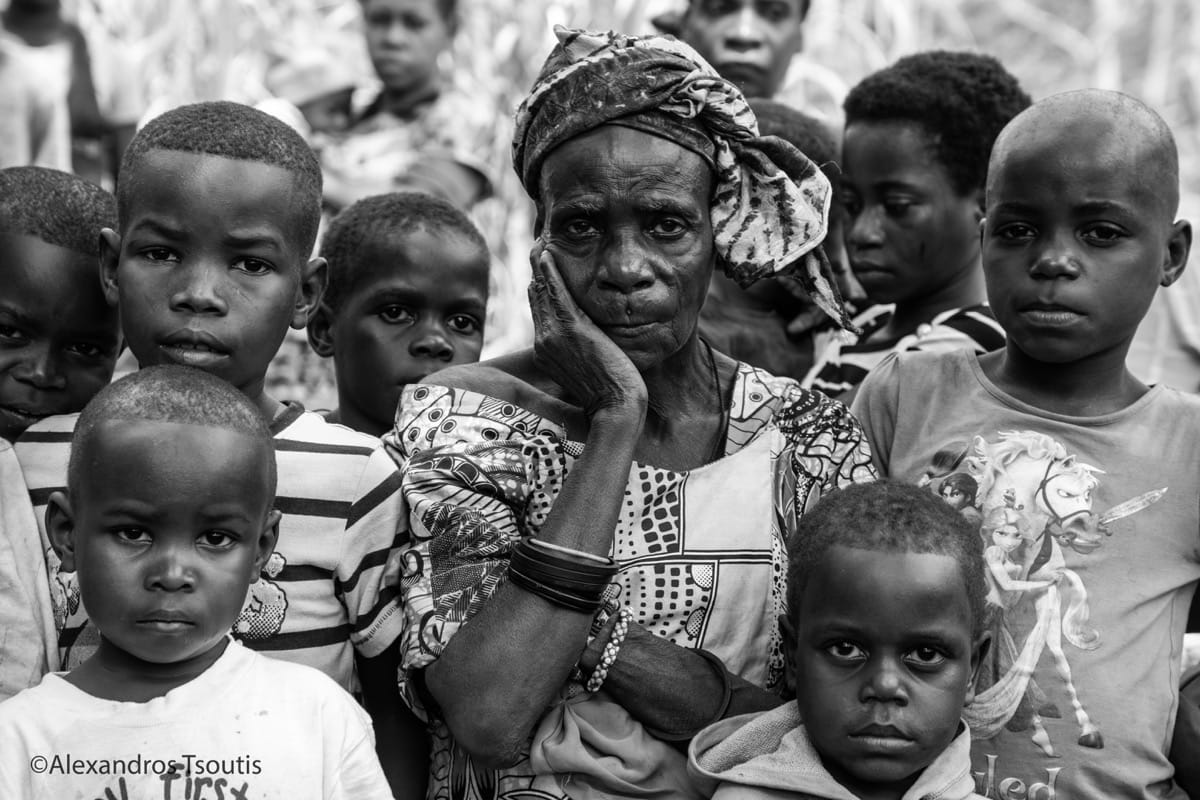 The Baka pygmy tribe lives in the dense tropical forests of southeastern Cameroon and across the border line with the Democratic Republic of Congo and – the troubled by civil war- Central African Republic. Following our traveling passion, Christmas of 2018 found me and my travel buddy in these inaccessible outbacks of Africa, given a limited time and budget. To get to the remote villages of Baka, we had to change a row of vehicles, mostly stacked in wrecked Toyota Corollas with heightened suspension and eight passengers inside, on endless dirt roads that are mainly crossed by trucks loaded with huge tree trunks, many of them seen overturned on the side of the road. The route set our strength to the limits and poured with plenty of red dust and fumes, our bodies, luggage and lungs. Spending at least 20 hours till reaching the border village of Yokaduma, we were hosted by a family of pygmys that have been urbanized and living in very satisfying conditions for African standards. In addition to the hospitality, we enjoyed a small traditional feast as well as tasty cooked dishes such as chicken, river fish, plantane (a kind of fried banana) and … rat! Rat meat, as well as a variety of wild animals such as monkeys and many others, supposed to be a delicacy for the pygmies. For us it has been the most disgusting thing we have ever tasted -and we have tried many- while the plantane's sweetness failed to make swallowing easier. We have to continue our route in the stuffy, red African dirt powder. We will reach the border station with C.A.R. in order to discover the settlements of Baka in the jungle and spend the night there. It's Christmas day and although Baka don't believe in Santa Claus, they have gathered in a camp by the road to seize the opportunity and celebrate with local alcohol. They welcomed us and we asked the village chief, to give us a small group of companions and get back in the jungle settlements, having a traditional experience. As a gift, we knew we had to bring alcohol and cigarettes, but instead we gave some money that were immediately redeemed to these items, filling the village with fictional joy. The members of the tribe – most of them short- of every age and sex, began to hand out sachets with a chemical alcoholic drink, with an admittedly nice fruit flavor. The consumption filled them with bliss, satisfying their addiction.
We, along with some young members of the tribe, followed a 2-3 hour path through the jungle. We could, easily but illegally, enter Central African Republic's territory, but fortunately we were more focused in the survival skills of the forest. They showed us how they collect honey from wild bees on honeycombs high up on trees after they dizzy them with smoke. The shaman of the tribe undertakes to climb and put his hand in the trunk hole. But honey was scarce to cover up their hunger. They do not hesitate to cut a tall tree if the honeybee is too high, they do not hesitate to kill a threatened forest elephant or a hippo to satisfy their starvation. The result is a degradation of their natural environment, that combined with uncontrolled logging, has drastically reduced prey. The environment also offers vegetal food consisting of bulbs and roots. We arrive at a camp that consists of small vaulted structures of branches and leaves. They make one for us as well. There is nothing covering the ground and they lie down on soil and ashes. But the ants of the jungle are aggressive and stingy. Baka have the custom to point grind their teeth. They showed us the brutal method, basically grinding them with the machette. Some members climb with ease on the trees and foliage, some boys flirting agorbally and possessively the girls and some others go fishing at the river. I expected to see some remarkable river flow, but it was a still shallow stream. The fishing method was primitive and silly. By separating some parts of the stream with mud, they were emptying the water and trapping tiny fish. They cooked them in a small utensil, and with grief they shared this little food, even the cooking water was drunk afterwards. But the guys started to get stressed, and many said they wanted to return back, ignoring the deal, apparently having alcohol withdrawal symptoms.
We decided to go back as well, as it didn't make sense to keep anyone against his will. The choice was good and in the village the feast had begun, with dances, percussions and alcohol smelling breaths. We were greeted as state leaders. They were dancing with us, touching us and talking in their unknown language to us. As time passed and they got "dry," they began to ask, to beg for more drink. We were absolutely negative on that. We gave the little kids stationery and pencils that we carried along and to the elders we offered our chicken, fish, plantane that we had with us from the home in Yokaduma. They run like crazy on the food … these people face real hunger. It is sad and unacceptable that this happens in the 21st century, but unfortunately these people are embroiled in their addiction.
Among them, children and adults with signs of malnutrition, pregnant or breastfeeding mothers. One of them magnetized my eye and I wanted to keep the picture forever. A puzzle of three protagonists' mood make up the picture. A laughing mother seems to ignore her infant who, with an anxiety of survival on his gaze, is struggling to suck a drop of milk from her slender, empty, wrinkled chest while an expression of pain draws on the face of another woman.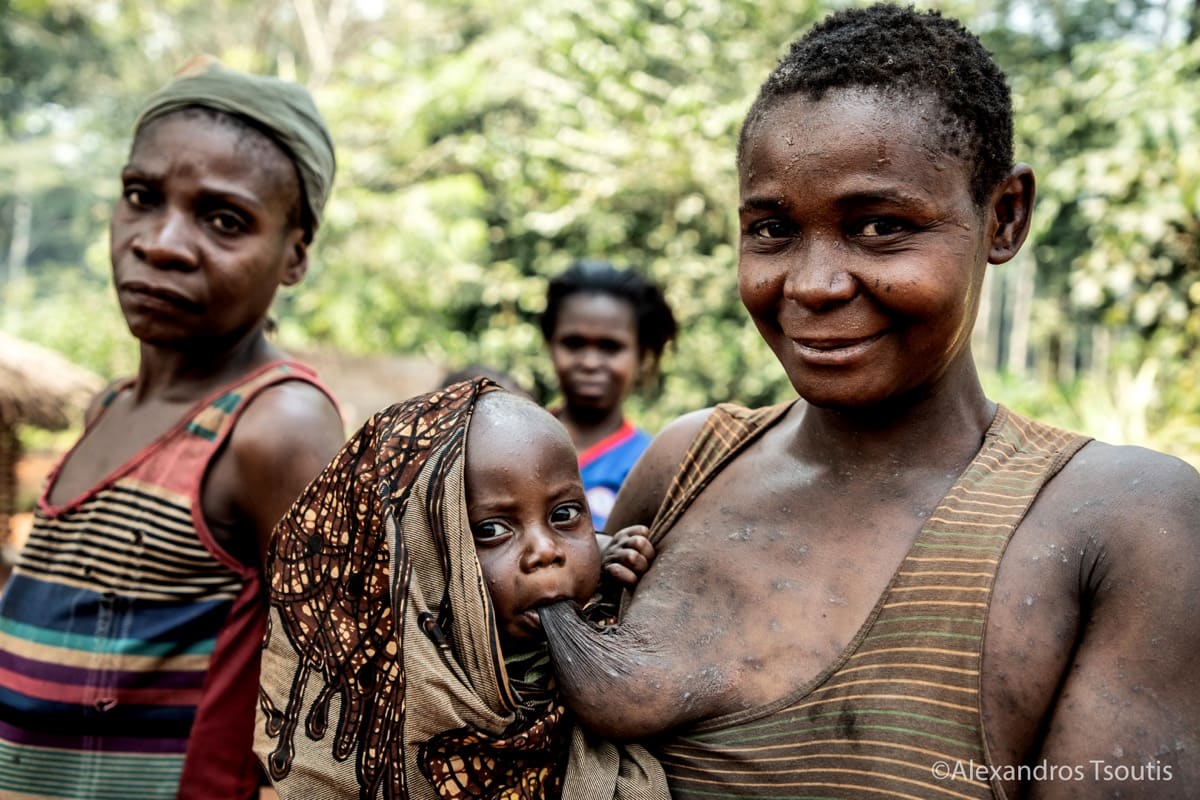 About the health conditions I will not say much. They are similar everywhere in Sub-Saharan Africa. Infants lie naked on ground where people and animals pee. One day before a child died. Leaving the camp with feelings of sadness, anger, despair, injustice, I wonder how this world could be saved …
Facebook Comments